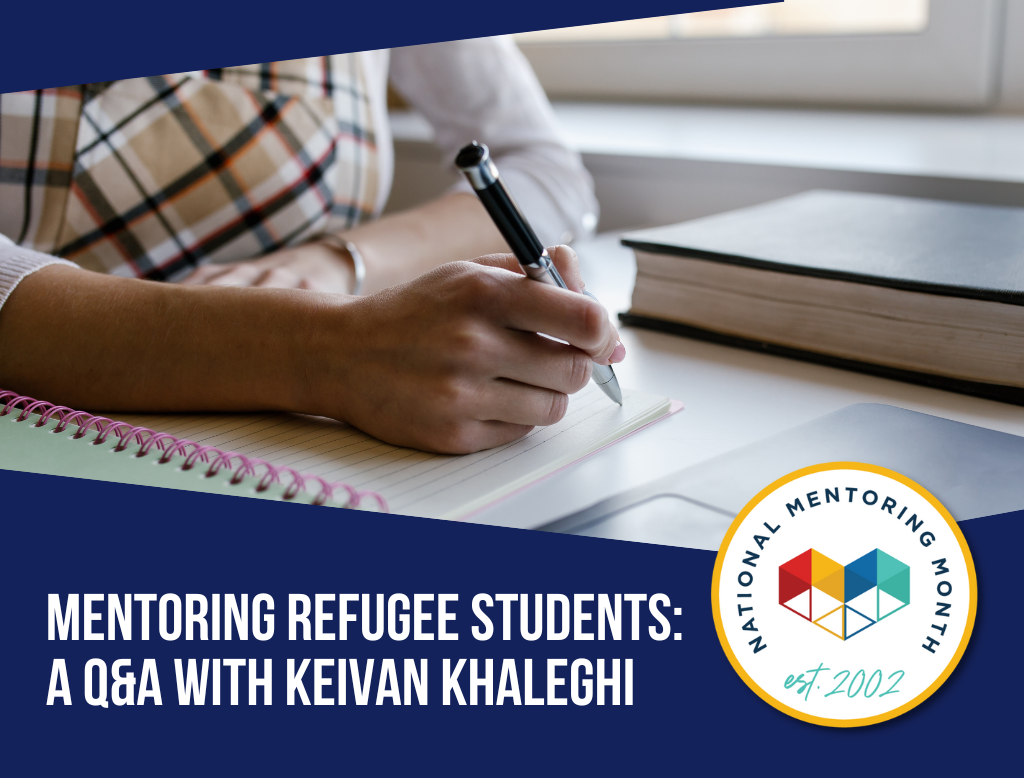 Keivan Khaleghi is a PhD student at the University of Texas who mentors through the UT Refugee Student Mentor Program. APIE helps to connect mentors in the program with middle and high schools campuses. In this Q&A, Khaleghi shares his experiences mentoring two refugee students from Afghanistan. 
---
Q: Tell us a little bit about yourself.
A: I'm in the PhD program in the Petroleum Engineering department at the University of Texas. I have an interesting background which kind of links in with how I came to be a mentor. I was originally born in Iran, and I did my undergrad program there. Then I moved to Canada and lived there for 14 years. I'm now an Iranian Canadian citizen. I was looking for a new challenge, and I came across the program at UT, applied, and came here to Austin.
Q: How did you learn about mentoring and what made you interested in working with refugee students?
A: I learned about the UT Refugee Student Mentoring program, and learned they were looking for people who know Farsi. In Iran, it's the official language that everybody, even ethnic minorities, learn. In Afghanistan, they have different ethnic minorities that have their own languages and cultures, but many still speak Farsi. The Farsi may be a little different between Iranians and Afghans, but you can still communicate. It's like if you get a British and American person together – some of the words are different but you can still understand.
The biggest reason I wanted to mentor was paying it forward. When I came to Canada in the beginning, my command of the English language was not what it is now. Learning English opened a lot of doors. You can communicate and bond on a much deeper level. I wanted to help students take one more step towards that level of proficiency.
Q: Tell us about your mentoring experience so far.
A: I started working with two brothers at Burnet အလယ်တန်းကျောင်း in early October 2022. They're two years apart, but right now they're in the same class. They're really, really good kids. I got lucky with them. I think they've been in Austin for about a year, so they're new to the area. They're both from Afghanistan and one of their biggest interests is soccer. They're huge soccer fans and they're trying to get into the soccer team at school. I think that language is really important for them because they have to be able to communicate with other students. That's the part I'm trying to help them with a little bit, so they can be able to ask for a place on the team and mesh with others at school.
Q: What kind of activities do you like to do with your mentees?
A: We speak in Farsi and work on English. I'm learning new Farsi words from them and they're learning words from me. We're able to communicate quite clearly though, but sometimes it's "Oh, you call it this, we call it that." I've really tried to attune myself to their dialect and find proper teaching materials. It's been a great learning experience for me. We talked a lot about the World Cup and which teams they're a fan of when that was happening.
Sometimes I find these short grammar lessons because they really need to learn English fundamentals and some vocabulary. We'll cover simple topics, and we learn a few words and grammar structure. I also got lucky and found some literature books that the schools in Afghanistan used to teach before the new regime took over. I think that's been a good breakthrough, because they get to see things like their national anthem, the flag, and more. It's familiar, and they're more comfortable and open to giving it a try. In the beginning, I was trying to get them to read some novels or stories, but I realized that because it wasn't from Afghanistan, they weren't comfortable with the vocabulary. That's put me on a path of finding something that is more suitable to them.
မေး How is their English coming along so far?
A: It's good. It's definitely a work in progress. But the good thing is once you're in the ocean, you've got to swim. I can see them picking up on words, especially if they see something that is really useful to them. Repetition is key, so sometimes I go back and review what we've done to see if it's sticking.
Q: What do you think are some of the unique challenges that refugee students face and how can mentors help them navigate those?
A: Being aware of their dialect and being attuned to that is really important so you can communicate effectively. The other thing for me is keeping in mind that you don't know what their story is or what kind of hardships. Providing a kind, relaxed, and safe environment – having a soothing energy is a priority. I try to really have that in my interactions with them and try to bring that energy to life.
မေး How do you think you've been impacted so far by your mentoring experience so far?
A: Very positively. It's a very nice part of my weekly routine. The day before I think about what I'm going to discuss with them and what kind of material I'm going to bring to them. It's really a source of excitement and positivity.
Q: What are you looking forward to with them in the spring?
A: I'm excited to keep our momentum and see them grow and have moments of breakthrough with their English. I love this part of my week!
---
Austin ISD currently has a high need for bilingual mentors. If you speak a second language and are interested in mentoring, please contact APIE's School Connections Manager, Wen Nguyen, at wnguyen@austinpartners.org. 
You can still get involved with our mentoring program even if you aren't bilingual! Visit our ဝဘ်ဆိုက် to learn more and register today.