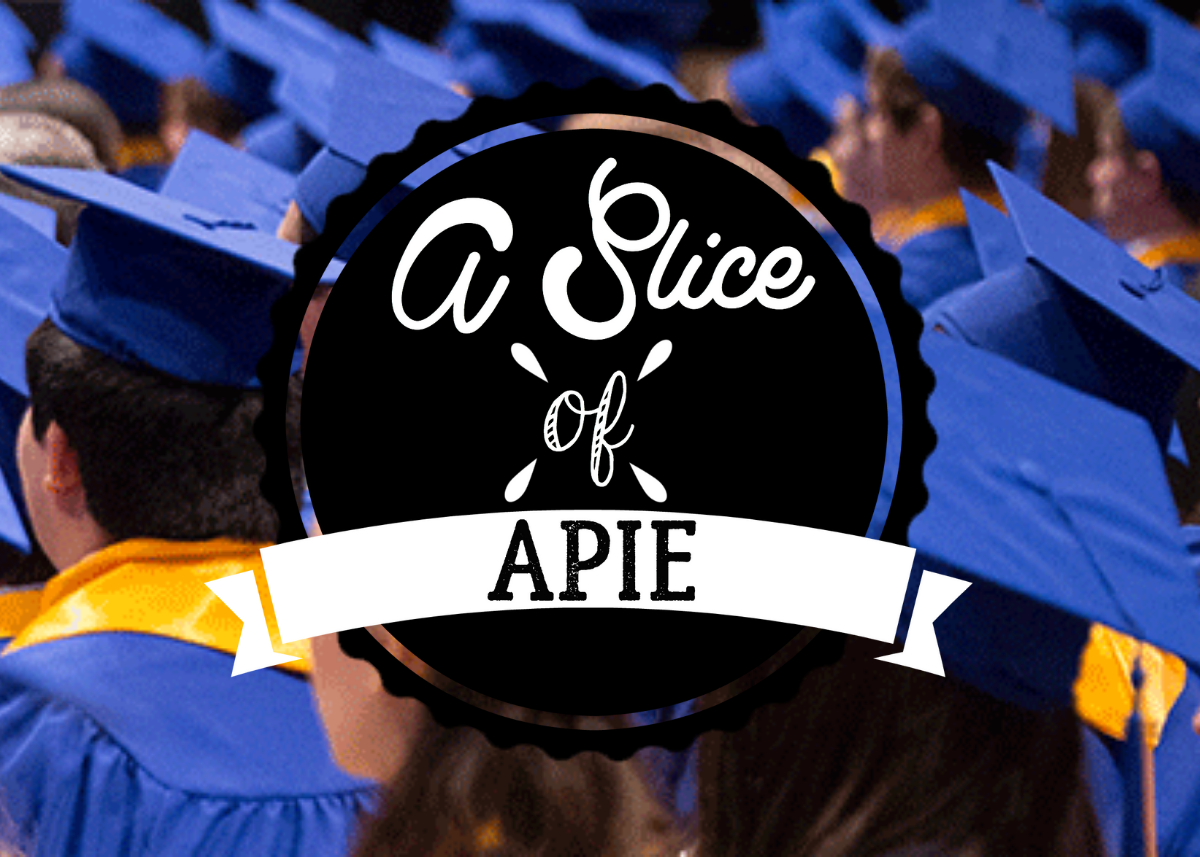 Greetings APIE Community – 
Reflecting back over this past school year, I continue to be in awe of the incredible resilience of our students, staff, and volunteers along with the progress we've made together in these oh-so-challenging and unprecedented times.
We appreciate the support of our many stakeholders and campus staff for helping us continue to show up for students through our mentoring and tutoring programs — which allow us to make 1:1 connections and build a meaningful relationship with each student. It is these relationships that "fill our buckets" and keep us engaged and pressing forward in our mission. We couldn't do this work with you.
Over the summer, I hope we can all find time to rest, relax, and rejuvenate; remembering to breathe deeply, pause intentionally and reflect wholeheartedly…inhale, exhale, and repeat. APIE staff will be busy reviewing our data, recalibrating our programs, completing our strategic plan and hiring some new team members. (Please see our 网站 for employment opportunities!)
Thank you for your support & take care over the summer,
凯茜·琼斯(Cathy Jones)博士
执行董事

P-TECH Real Estate Program Wraps Up Year Two
The P-TECH Real Estate program at Akins Early College High School (ECHS) culminated on May 20 with a work-based learning event at the Austin Board of Realtors (ABoR) headquarters. Students enrolled in the program heard from Cord Shiflet, the 2022 President of ABoR, along with several real estate professionals working in the Austin area. They learned about building their own personal brand, running a real estate business, and leading in the real estate professional community. 
Austin ISD and APIE work closely with industry partner Kelea Youngblood, who serves as Chief Marketing Officer for ABoR, to organize professional development opportunities throughout the year. Students enrolled in the program earn a two-year Associate of Applied Science degree from Austin Community College at no cost, and can become certified real estate agents by the time they graduate high school. "The beauty of this program is it's not just about the classes that you need to take to get your license," Youngblood said to KVUE. "It's about the real-life education, the hands-on experience. We will provide them with shadowing opportunities and internships. And so, they will be very well equipped once they graduate to enter the real estate industry."
APIE launched the real estate pilot program in partnership with Austin ISD at Akins ECHS in 2020, with funding support from the Greater Texas Foundation. This year the program served 37 students.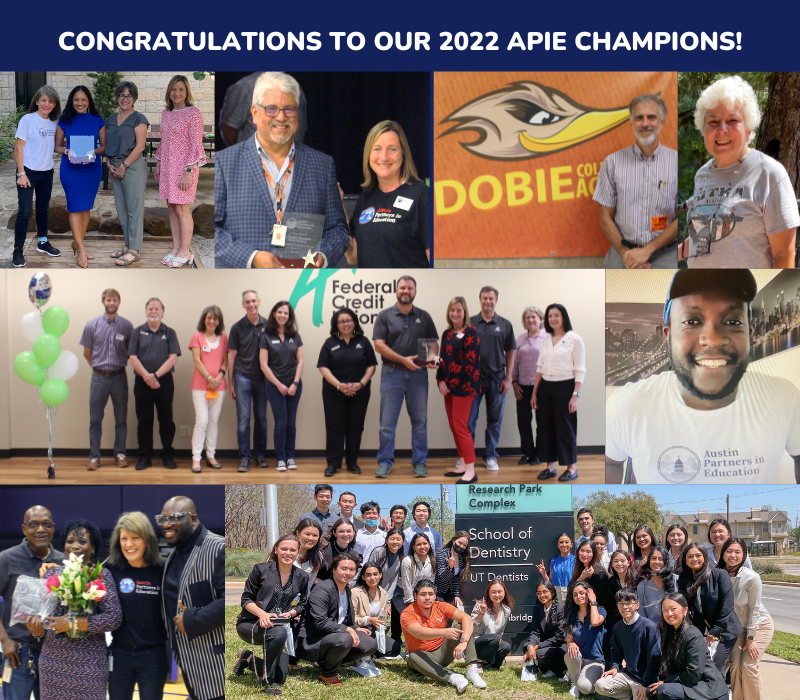 2022 APIE Champions Recognized 
We are pleased to share the winners of the 2022 APIE Champion awards. These individuals and groups have gone above and beyond to support Austin ISD students.
APIE Volunteer Champion: Nigel Gombakomba
APIE Volunteer Champion: The University of Texas Pre-Dental Society
APIE Mentor Champion: Bianca Xoyamayagua-Galvan
MCC Above and Beyond Award: Joan Quenan
MCC Above and Beyond Award: Niles Seldon
APIE Support Champion: Nahum Pacheco
APIE Business Champion: A+ Federal Credit Union
APIE Secondary Coordinator of the Year: Sandray Zachary, Gus Garcia YMLA
APIE Elementary Coordinator of the Year: Bernardo Martinez, Wooten Elementary
Our honorees embody what it means to serve with heart, and they inspire both students and the Greater Austin community. Congratulations to our APIE Champions!

Thank You for Supporting Salute 2022
We're grateful that we were able to celebrate Austin ISD educators in person this year! This annual event, co-hosted by APIE and AISD, recognizes the district's outstanding educations and staff for their dedication to students. Thank you to the 20 businesses and organizations that sponsored Salute 2022. To view the complete list of award recipients and watch the full ceremony, which took place on May 12, click 这里.