Happy Spring, APIE Supporters!
Spring marks one of my favorite times of the year as we enter the final nine weeks of the school year and see our students' academic growth and self-confidence blossom.
Each year has its ups and downs, and this year is no exception; but what continues to amaze me is the strength, perseverance, and resilience of our students, staff, and community of volunteers.  Showing up for students and helping them finish strong is what we're about at APIE.  Whether it's offering encouragement, mentoring, or tutoring, we know that our programs make a difference in students' lives.
I truly believe that our struggles help make us stronger.  As we've adapted to the constraints and challenges of the pandemic, we've had the opportunity to rethink how we work with students and to refine the strengths of our organization.
Together we have weathered the storm and can see brighter days ahead.  Together we have continued to show up for our students.  And together, our possibilities are limitless. 
感激不尽
凯茜·琼斯(Cathy Jones)博士
执行董事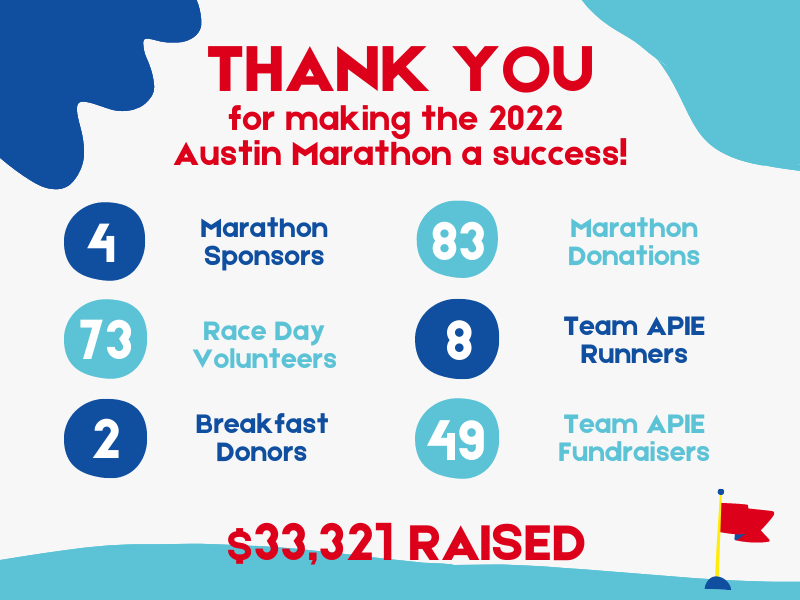 2022 Austin Marathon a Success for Team APIE
We ran the miles (and the numbers) and thanks to you, the 2022 Austin Marathon was one for the record books! This year we had:
4 Marathon Sponsors (A+ Federal Credit Union, Bumble, Cushman & Wakefield, and ATX Promos
73 Race Day Volunteers (Including groups from: A+ Federal Credit Union, Austin Young Chamber, UT Archery, UT Kappa Rho, Cedars International Academy, and Crockett ECHS)
2 Breakfast Donors (Snooze, an A.M. Eatery (South Lamar) and Trader Joe's)
83 Marathon Donations
8 Team APIE runners
49 Team APIE fundraisers (total includes runners)
Together, we raised $33,321, which includes a $10,000 matching gift from the Moody Foundation. We appreciate your support and hope you'll join us again in 2023!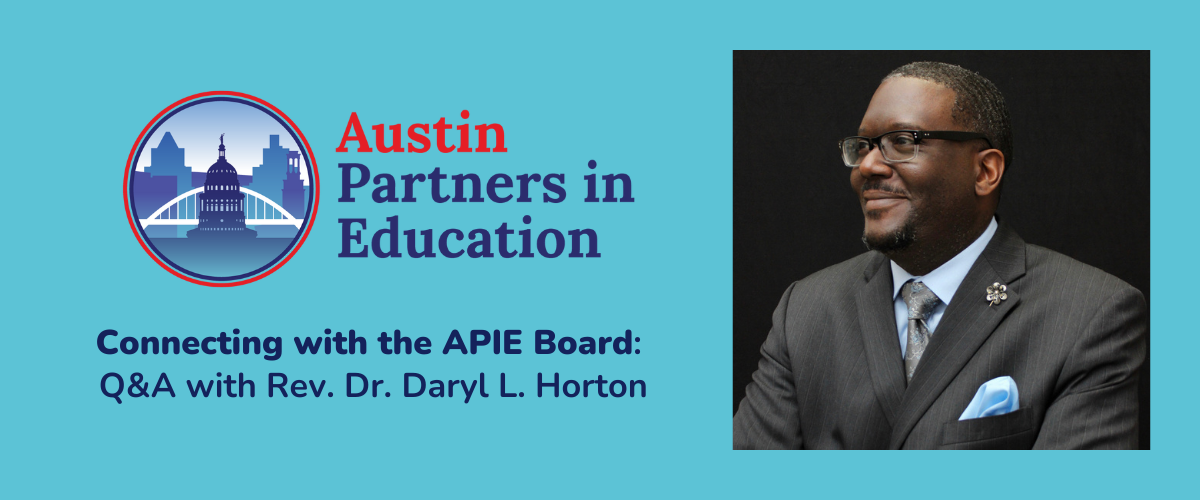 Connecting with the APIE Board: Q&A with Rev. Dr. Daryl L. Horton
In this Q&A, Rev. Dr. Horton, Pastor of Mount Zion Baptist Church, shares his experiences working with the Austin community.
Q: What is something that has given you hope or joy during these past few challenging years?
A: There are a few things, but what really gives me hope and joy is looking at the coming generation of young people and their boldness and courage to speak out about social issues and things that concern them. It's been so amazing that we have what we call the perfect storm—the pandemic, racial issues, confrontation between police and certain communities—and it's been amazing to see 20 and 30-something-year-old people sharing their voices and having dialogue to discuss how we can get around issues and why they still exist. Their involvement in social and civic issues really gives me hope. 
Q: Why is it important that nonprofits like APIE take part in Diversity, Equity, and Inclusion work?
A: All of us grow up with certain perspectives and you don't know what you don't know until you are exposed to it. We learn that we become better people with more perspectives. Highlighting these different perspectives helps people see through the lens of their co-workers, their students, or board members, and helps them see what it is like to walk in someone else's shoes. Diversity and inclusion help to build stronger culture; it helps us grow closer together and understand that we all share things in common, but we don't have to let the things that are different divide us. We can appreciate the differences and appreciate each other more. I encourage us to continue to do it, to celebrate everyone who is part of our culture. TO READ MORE, CLICK HERE.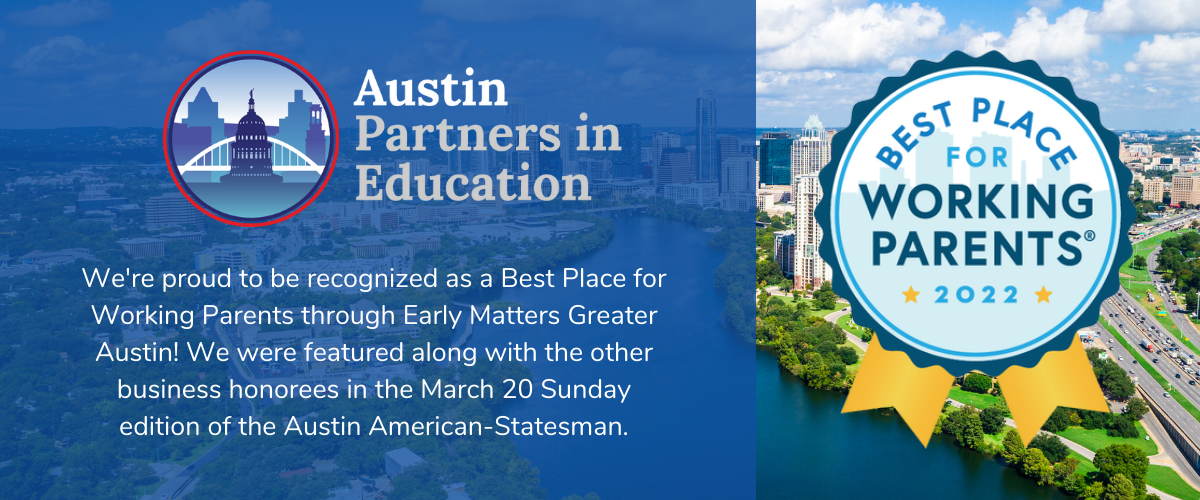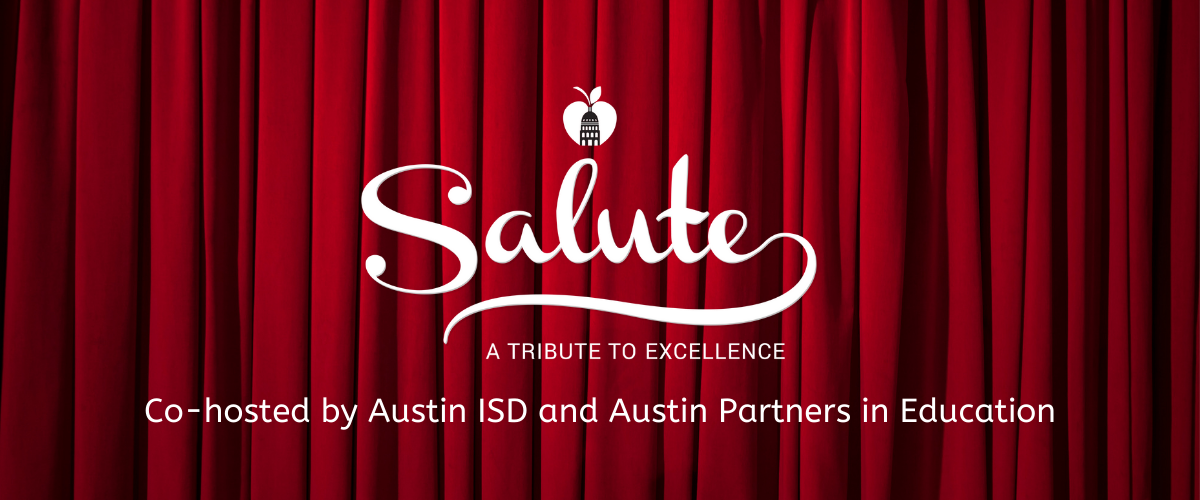 Save the Date for Salute 2022
Mark your calendars now for Salute 2022, which will be taking place on May 12 from 6:00 to 8:00 p.m. at the Austin ISD Performing Arts Center. Salute, co-hosted by Austin ISD and Austin Partners in Education, is an annual celebration to recognize the district's outstanding educators and administrators for their continued dedication to student excellence. Join us as we honor Austin ISD teachers and staff!