We've been busy…
Reviewing survey feedback from students & volunteers
Tweaking our programs
Meeting with principals & teachers
Hiring new staff
Recruiting volunteers
…and we are ready for an incredible start to an exciting 2023-2024 school year! We couldn't do this work without our dedicated staff, our amazing volunteers, and generous donors; so I hope you are ready to engage us to support Austin ISD students in their learning journey this year. We know that caring adults who show up consistently for students make a big difference in how students feel about their school experience and about their future. We all have an essential role to play to help students succeed.
This year is an extra special year for us for two very important reasons: first, we are celebrating our 20th APIE Anniversary! We'll have more information in the coming months about how we will celebrate this important milestone with you. And second, our cohort of GEAR UP students, whom we began working with during the spring of their 6th grade year, will be graduating from high school this May! What a distinct privilege it's been working alongside them as they have evolved into high school seniors. We are so proud of them!
I look forward to seeing you out in the community as we embark on what will surely be an incredible year.
With gratitude,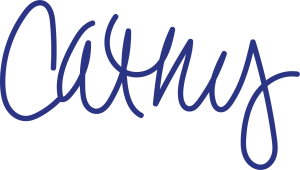 Cathy Jones, Ph.D. | Executive Director
P.S. Check out these great photos of the APIE team at our recent staff retreat, where we met to prepare for the new school year!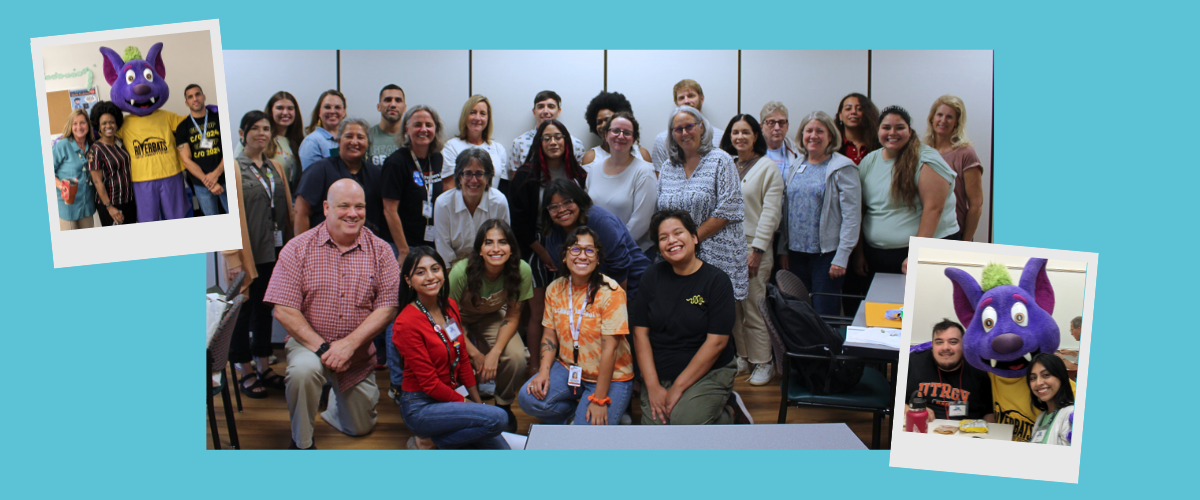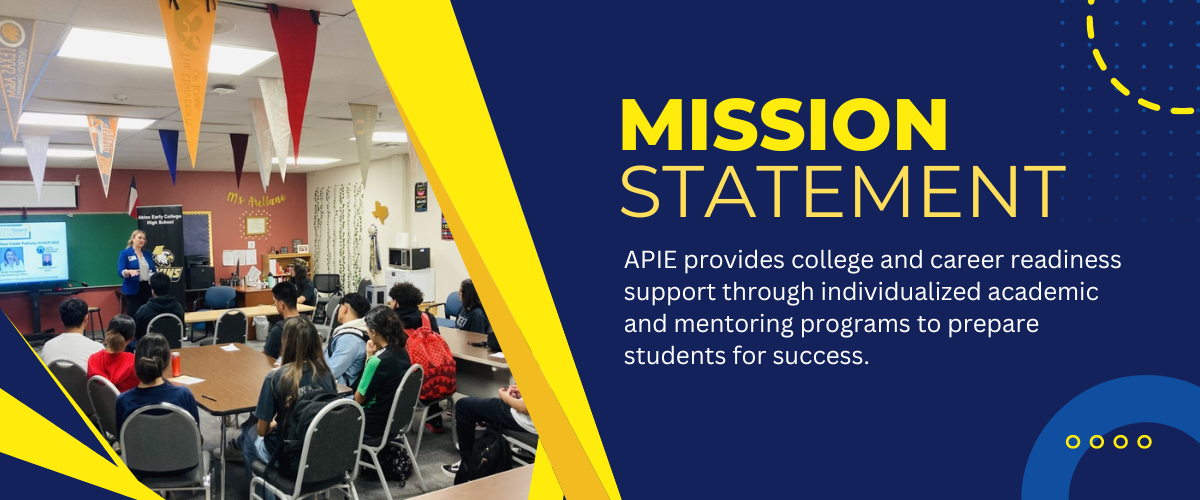 New Year, New Mission Statement
We are excited to announce that Austin Đối tác trong giáo dục has a new mission: to provide college and career readiness support through individualized academic and mentoring programs to prepare students for success. Why the change? As we near our 20thứ tự anniversary, we wanted our mission to better reflect our work, both now and moving forward. What hasn't changed? Our commitment to students is stronger than ever, and this new mission sharpens our focus on programming that is tailored to students and their needs and goals. We appreciate your support and invite you to join us on this new journey as we enter the next 20 years of APIE!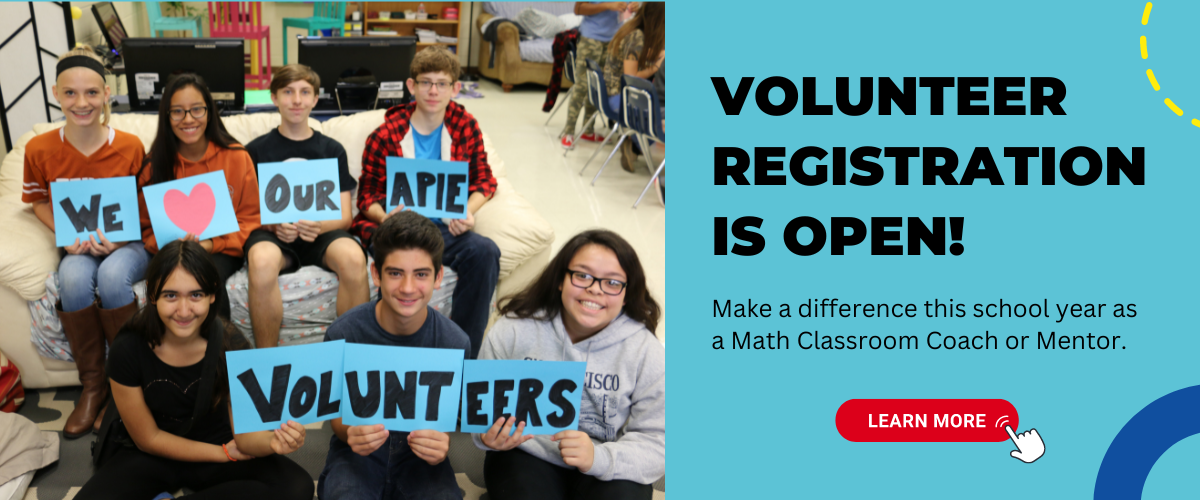 Volunteer as a Math Classroom Coach or Mentor This School Year
Join us on an Austin ISD campus this year as an APIE volunteer! Registration is now live on our website! For only about an hour each week, you can make a big difference in students' lives! Visit our website to learn more about Huấn luyện lớp học toán và Secondary Mentoring.
Interested in signing up, but still have some questions? Reach out to us at volunteer@austinpartners.org.
If you would be willing to share our volunteer opportunities with your place of work, worship, or other organizations, we can provide you with an electronic flyer. We can also organize an in-person or virtual information session about volunteering with groups of any size. We appreciate your help spreading the word about volunteering! Email Ashley Yeaman, our Communications & Volunteer Recruitment Coordinator, at ayeaman@austinpartners.org, for more information.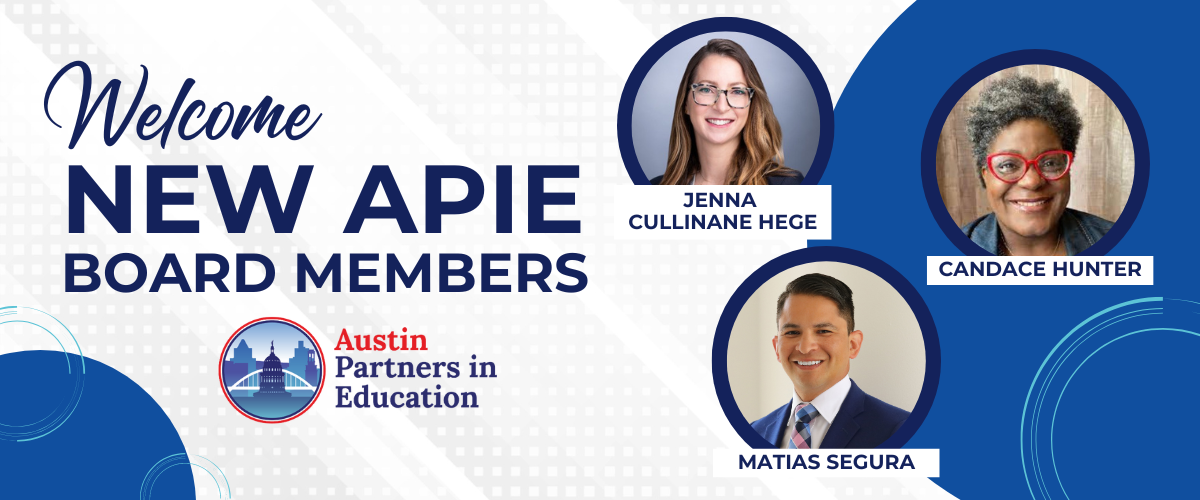 APIE Welcomes Three New Board Members

We are happy to welcome three new members to the APIE Board, including:
Jenna Cullinane Hege, Ph.D. | Vice Chancellor for Institutional Research and Analytics, Austin Community College
Candace Hunter | District 1 Trustee | AISD Board of Trustees
Matias Segura (APIE Board Vice Chair) | Superintendent | Austin ISD
Thank you to Garrett Groves and Emily Wright for their service as they end their time on the board. We are also grateful for Mark Williams, who will be transitioning to our Advisory Board.

APIE Selected as an Official Charity of the Austin Marathon 
We are pleased to share that we are once again an official charity of the Austin Marathon! The marathon will be held on Sunday, February 18, 2024. There are many ways to get involved and support us for this event, including:
RUN:If you are running in 2024 (Marathon, Half Marathon, or 5K) you can select APIE as your benefiting charity and join Team APIE. The first 10 runners to sign up for our team and raise $250 will receive free race registration! For directions on how to join the team, visit our trang mạng.
FUNDRAISE: You do not need to run to join our fundraising team. We're looking for team members to fundraise for Team APIE. There's no minimum to raise; every dollar counts! You can sign up on our GivenGain campaign page.
VOLUNTEER: Mark your calendars and join us at our aid station on race day as we cheer on the runners and provide water. We will need at least 75 volunteers this year. This is a great, one-time volunteer opportunity for individuals or groups! As the event gets closer, we will share a registration link.