Minamahal na Pamayanan ng APIE,
Welcome back to the '21-'22 school year, where APIE programs are in full swing!  We are so excited to be back on campuses and working with students in person.  We want to keep this in-person support trending, so we highly encourage all of our volunteers to be fully vaccinated and to wear a mask when on campus.
If you haven't signed up yet to volunteer, there's still time!  We need more mentors and Math Classroom Coaches to help meet the demand for our programs.  If you enjoy working with adolescent youth, this once-a-week commitment can quickly become the highlight of your week.
There's nothing better than seeing our students in person…the twinkle in their eyes is evident and their enthusiasm when working with our staff and volunteers is undeniable. I hope you will join us this year in showing up for Austin ISD students!
Together we can do this,
Cathy Jones, Ph.D.
Executive Director
P.S. We are hiring!  We are looking for a few dynamic individuals to serve as College Readiness Advocates.  These staff members work directly with high school students on campus each week providing tutoring and college readiness support.  If you or someone you know would be the right fit for APIE, please reach out to me at cjones@austinpartners.org.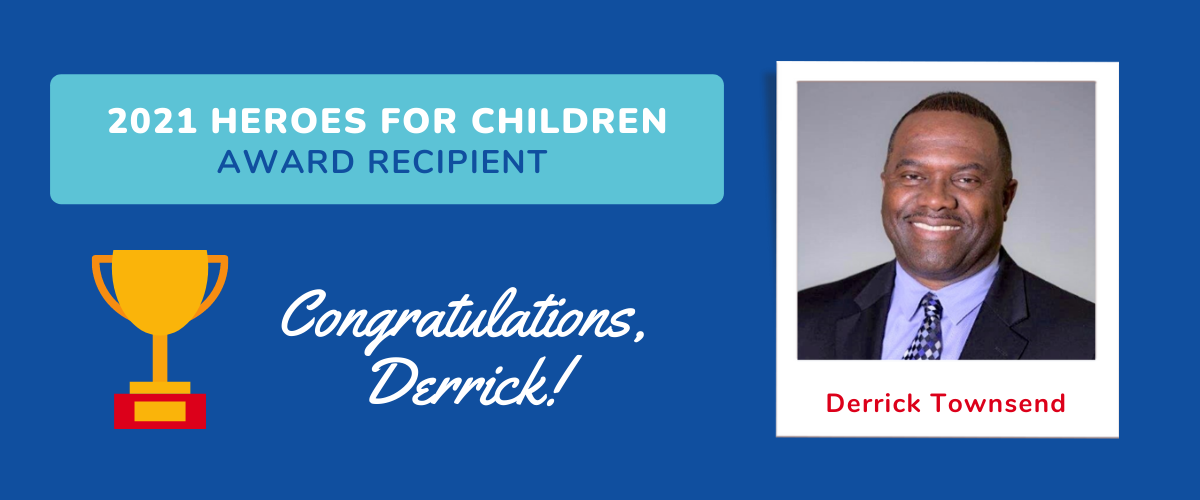 APIE Mentor Derrick Townsend Named a Recipient of the 2021 Heroes for Children Award
We are pleased to share that Derrick Townsend, one of APIE's longtime mentors, was named the 2021 Heroes for Children award recipient for Texas District 5! Presented by the Texas State Board of Education, the award recognizes 15 outstanding volunteers throughout the entire state whose efforts represent significant contributions to public school education in Texas.
We featured Derrick on our Blog during National Mentoring Month earlier this year and encourage you to learn more about him and his experiences mentoring students for over 25 years. We're grateful to his dedication to Austin ISD students!
APIE's Building Pathways for Student Success Project Begins Year 2, Welcomes Two New Staff Members
Through lead funding from the Kalakhang Texas Foundation, APIE continues to support the Pathways in Technology Early College High School (P-TECH) Program at Akins Early College High School (ECHS) for the 2021-22 school year. APIE began supporting the P-TECH program last year and provided academic support to 27 P-TECH students, including delivering over 11,340 hours of in-class support and 1,740 hours of one-on-one and group tutoring for the Texas Success Initiative Assessment (TSIA).
APIE encouraged students to engage in career exploration by facilitating real estate industry presentations and work-based learning activities. APIE also worked closely with Akins ECHS leadership to complete a needs assessment of the program and develop strategies and resources to improve program recruitment, industry partnerships, and academic support.
This year, APIE welcomes two new members to the P-TECH team: Tiffani Borcherding, the Work-Based Learning Specialist, and Caroline Ferguson, the College Readiness Advocate. Tiffani and Caroline join Mary Hausle, the P-TECH Program Research & Project Manager. Together, the APIE team will continue to collaborate with the Akins ECHS team and the P-TECH industry partners to provide capacity building support, deliver academic services to P-TECH students as they begin their Austin Community College classes, and create meaningful work-based learning experiences.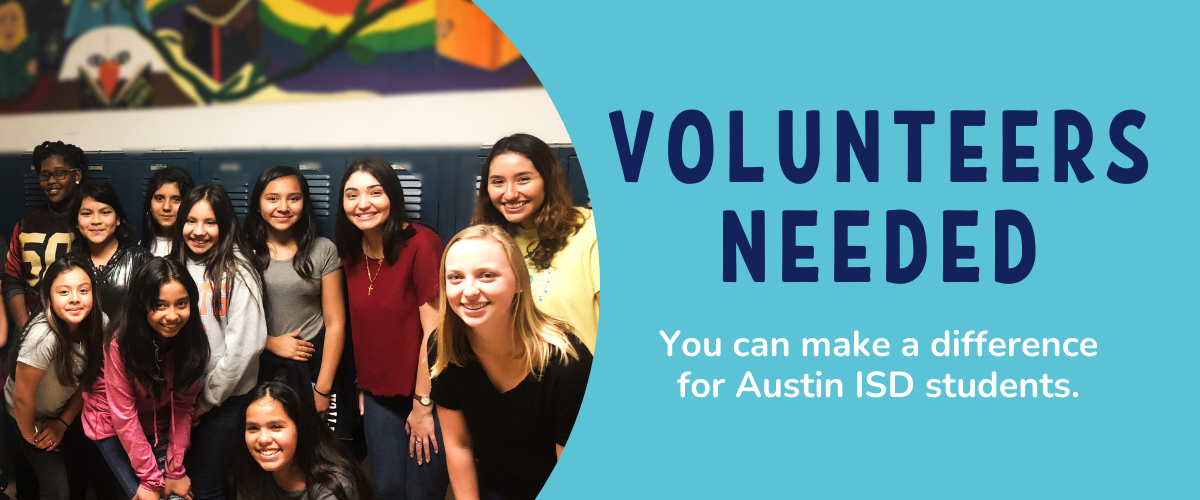 Math Classroom Coaches and Mentors Needed This School Year
In-person volunteering has started once again, and we're excited to be welcoming volunteers back to Austin ISD campuses! If you aren't already a volunteer, we hope you'll consider joining us this school year. Here is some quick information about our two volunteer opportunities. For only about an hour each week, you can make a big difference in students' lives.
Help students increase their self-confidence and deepen their understanding of math.
Work with a small group of two to four middle school math students for one hour each week.
Volunteer opportunities are currently available at Covington, Dobie, and Martin Middle Schools.
Help a student build self-confidence by being a positive role model.
Volunteer one-on-one with a 6th to 12th grade student at any Austin ISD middle or high school for 30 to 45 minutes once a week.
Interested in signing up, but still have some questions? Reach out to us at volunteer@austinpartners.org.
If you would be willing to share about our volunteer opportunities with your place of work, worship, or other organization, we can send you an electronic flyer to send out via email or print out and display. We can also organize a virtual or in-person information session about volunteering with groups of any size. We appreciate your help spreading the word about volunteering! Email Ashley Yeaman, our Communications & Volunteer Recruitment Coordinator, at ayeaman@austinpartners.org for more information.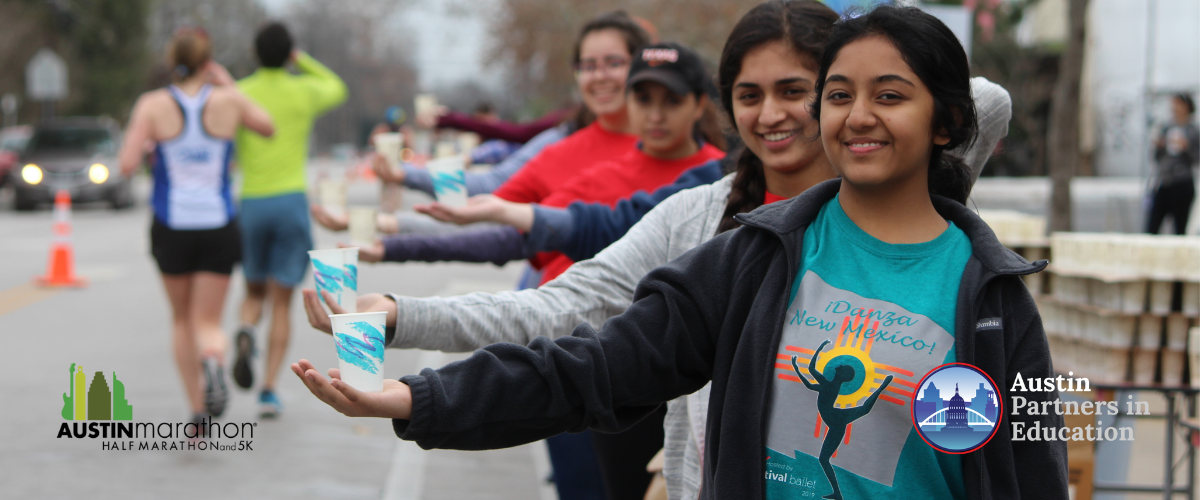 APIE Named an Official Charity of the 2022 Austin Marathon
We are excited to announce that we are once again an official charity of the Austin Marathon! The marathon will take place Sunday, February 20, 2022. There are lots of ways to get involved and support us for this event, including:
RUN: If you are running (5K, Half Marathon, or Marathon) you can select APIE as your benefiting charity and join our team! Any funds you raise will go directly to support our work with students.
FUNDRAISE: You do not have to run to join our fundraising team. We're looking for 50 team members this year. There's no minimum to raise; every dollar counts!
VOLUNTEER: Join us at our aid station on race day as we cheer on the runners and provide water. We will need at least 50 volunteers this year. This is a great one-time volunteer activity for individuals or groups!
Stay tuned on our website and social media accounts for more information and links.